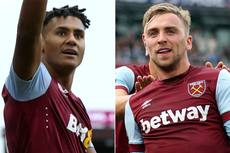 Saka was already an injury concern ahead of Arsenal's trip to Lens after issues against both Tottenham and Bournemouth, but Arteta said he did not regret his decision to start the forward in France.
"No," Arteta said, "it was a knock that he had the other day and he was perfectly fine. It was a back-heel, an action that can produce that kind of injury.
"Let's see what the extent of it is and afterwards it's too late. The last few were more knocks than anything else.
"He hasn't really missed games. We gave him a break against Brentford (in the Carabao Cup) last week and that was all.
"He tried to backheel a ball in the first half and felt something muscular. He felt uncomfortable to carry on so we had to take him off.
"We don't know anything more. It was big enough not to allow him to continue to play the game and that's a worry for us."
Source: Read Full Article