en's county cricket means so much to so many. Perhaps only last year did we truly appreciate the scale of both. 
We got play. Some, but not much. Enough to remind ourselves that Essex rule the red ball and Nottinghamshire the white. Established names cracked on, while young shiny things made what waves they could with the little showtime they had. 
Fixtures came and went amid protocols stringently followed. Obligations were fulfilled, as sponsors and stakeholders clawed back what they could. Observers got their hit, however small, gaining fleeting satisfaction. Glasses and souls less-than-half full.
The players suffered immeasurably. What carrots there were of England hopes, however big or small were removed altogether with the announcement of a fifty-strong training collective before the domestic game got its green light. Coupled with the postponement of The Hundred, marquee pursuits were out of reach and grand ambitions put on hold. In the corridors, handshakes were reneged, gentleman's agreements ungentlemanly forgotten. 
All this while dealing with the same challenges that afflict us all. Due to the universal bind of Covid-19, any grumps had to be suppressed. All dismay internalised. Because, well, how could they complain, right? They play cricket for a living. How privileged they are to be doing what they loved, even if what they loved had been stripped of what they loved about it. 
County cricket, for all its merits, is the highest-profile English sporting establishment least equipped to deal with a pandemic. Financially and emotionally. Once the routes to the next level cut off, stands empty and stripped of its comradeship, it became a smaller, lonelier place. The majority need it to earn a crust, the riches of overseas ventures of international tours or Twenty20 cameos beyond them. Many need it to feel whole.
It is why the emotions ahead of the 2021 season are greater than ever. Expectations, of success and now normality, are through the roof. The sense is that this fresh start will be fresher than ever. This feels more than just "our year" – it could be everyone's. 
Independent Rugby Newsletter
Live Rugby union coverage direct to your inbox every week
Read our privacy notice
Independent Rugby Newsletter
Live Rugby union coverage direct to your inbox every week
Read our privacy notice
With that in mind, The Independent has picked three cricketers to tell their stories of the last 12 months that required different forms of endurance and introspection, and their hopes for a brighter 2021. 
***
Aneesh Kapil, 27, is a former England U19 allrounder who came through the ranks at Worcestershire before moving to Surrey. He is currently unattached. 
Since leaving Surrey at the end of 2016, I've been trying to work my way back in the game. I thought I'd found a way back with Sussex. 
I had been training with the second team in 2018 and 2019. It went well, I thought. I averaged about 70 with the bat in the 2nd XI. One thing that was most frustrating was this reoccurring rib impingement which I couldn't recover from and have a stint bowling consistently. 
I got given a chance against Australia A in July 2019, my first first-class match in four years. That second innings,  I got to 33 and felt good (against a pace attack of Josh Hazlewood, Michael Neser, James Pattinson and Jackson Bird). We got bowled out for 120 and I was not out. Your mind wonders: if there were 20 overs to bat and more people to bat with, could that have become a decent score, maybe a hundred? Stuff like that makes all the difference. 
I felt a contract at the end of that season with Sussex should have presented itself. That's cricket, things don't always work out as you hope. Mentally, it was challenging. Jason Gillespie, coach at the time, was complimentary about me. Nothing came of it, but I felt I was making progress. Dizzy and the other coaches were kind enough to give me a recommendation letter. 
Read more
Who is going to win The Masters? Betting tips and tournament picks
Thomas Muller interview: Why Bayern Munich will never be underdogs
Why another famous Champions League comeback may be out of Liverpool's reach
The Champions League trend that could come to the fore again
The winter of 2019, I played some club cricket in Melbourne and in Dubai. Things were coming together and I was feeling good going into last summer.  I had been speaking a lot to Dave Houghton, head of cricket at Derbyshire, about going there and proving myself in 2020. Then on 22 March, all those plans vanished. 
I didn't realise the impact the pandemic would have until four or five months later. The summer was gone, and I was not playing the cricket I wanted to be playing. The protocols meant it was impossible for me to get in anywhere. I mean, it was hard for professional cricketers to get what they needed from the summer, imagine what it was like for me? It was a complete write-off. 
This off-season was spent in Dubai coaching which helped me hang in there. Because the restrictions in the UAE were not the same in the United Kingdom,  I was able to play a lot outdoors. It turned into an incredible opportunity. I felt like a professional cricketer again. 
Thankfully when I got back Houghton invited me up to Derbyshire. I was involved in their preseason for about two-and-a-half weeks. It could not have gone any better with the ball. I felt really good, I didn't feel out of place in that squad. I felt I had a good chance of playing those early friendlies. Then, in the last session, I was told opportunities to their academy players and existing staff. I might come into their plans later down the line.
I have had a chat with Jimmy Adams, Hampshire's 2nd XI coach. He said some nice things, that he'd heard a lot of positives. He mentioned that at the moment the county are giving academy players opportunities in their 2nd XI. 
Alec Stewart at Surrey told me much the same this week: across the board, all counties are looking to "recruit" from within. I get it: I came through at Worcestershire and know how important it is to blood your own youngsters as early as possible.
Because I don't really have established first-class stats, I think county teams look at me, see my age and make their minds up. I feel that's unfair because the stats don't really tell the truth of where I'm at. If you break it down: most of my first-team stats are as a 17-year-old, 18-year-old player, and then here and there at Surrey. I think they still see me as that player. 
I am in a good place with the ball and things definitely feel very different: I've changed my action and I can feel the benefits physically and with regards to pace. For the time being, I've been able to get out to parks and bowl which has been good, even if it's been freezing! Not ideal, but it helps bridge the gap. 
I'm still going to counties with my numbers from Sussex, but because they were second team, they are just brushed away. It feels like those two years had been wasted. But I know I have to chase coaches, talk to players and work things out. I'm just not sure about the system right now in terms of how I fit in and can get my chance to show what I can do. 
I feel ready, I feel it's a case of just one opportunity. But if it's not coming for whatever reason, and I can't do any more, then I have to ask myself: Am I just playing a waiting game that's not leading anywhere? That's what hurts the most. 
***
Josh Cobb, 30, is a batsman for Northamptonshire. He has made his name in limited-overs cricket, winning the T20 Blast with Leicestershire Foxes and Northamptonshire Steelbacks, with player-of-the-match performances in both the 2011 and 2016 finals. Originally overlooked for The Hundred in 2019's draft, he was picked up by Welsh Fire in the re-draft held earlier this year. 
We got back from a pre-season tour of Singapore last March and straight into the unknowns of lockdown. Most of us thought it might just last a week or two. 
The next month or so were just full of rumours of when we'd start and even of the season potentially getting canned altogether. From my point of view, I just wanted an end date. If I knew I had two months until we were back in training, it gives focus rather than just plodding along. It did feel like it was never-ending. 
Of course, it wasn't as enjoyable as previous seasons. Social distancing, the lack of socialising, the general worry about how things were. You think about the times you'd usually all go out to dinner and just, well, hang out. All that was gone. You're just in your own room, order your food, keep to yourself. 
I went from school into cricket so I don't know too much else but playing cricket with your friends. But when I do think about the stuff around the game – why we play – I realised it's stuff I miss. You spend a lot of time with these guys who become good mates. The group element of sport is so valuable, especially for the mental side of things. 
From a cricket point of view, no crowds in the T20 Blast was not the same. The adrenaline of walking out to the middle and hearing that noise, it switches you on. It had lost that rush. Some of the games felt like friendlies. 
We were playing in a quarter-final in Bristol. Normally they have sellout crowds and you'd feel that buzz the night before. 
Josh Cobb in action during a pre-season warm-up match
As someone who has played in finals and thrives off the crowd, it just didn't feel like it should. People might say it did, and everyone's different. T20 for me, the razzmatazz of it all, gets me going. I know it was on TV and being streamed, but it felt like you'd been forgotten, that no one was watching. 
Still, we had a decent T20 campaign. In the usual county grind, you don't really get the opportunity to focus solely on formats, so that helped last summer. We got off to a flyer winning five from five, and it kept us going. Once we had that defeat to Gloucestershire, that was it, season done. 
The delay in the Hundred gave me a second chance. I didn't make the original draft in 2019 which I was disappointed with. I thought I'd done enough to earn a spot one way or another but for some reason it didn't work out. 
As much as the pandemic, it was Brexit, really, that saw me get picked up in the re-draft at the start of this year. A certain amount of spots were up for grabs with the Kolpaks not being able to play as locals. It helped with my price point, as well. I got lucky. 
My expectations were pretty low leading into the redraft given what happened previously. I was hopeful but I was hopeful before and ended up being disappointed. If you expect the worst, you can't be too disappointed. I was pleasantly surprised well the Welsh Fire picked me up. It's an opportunity to put my name out there on a bigger stage. 
Thinking back, 2019 we had the massive high of the World Cup and cricket was in a good place. I think everyone involved in cricket needs this season to try and build off that still if the game is going to get back on track.
I think, for my general situation, I was lucky to be where I was in my life with Covid. As a single lad, you might have a few drinks and sleep to whatever time and get up, play a bit of Call of Duty. At times, maybe I wouldn't have had a reason to get out of bed. It's great living like that for a week, but when you're looking at six months or so, you can end up in a hole. 
But I had a routine during lockdown of a one-year-old waking up at a certain time, feeding at a certain time. I always had something to look forward to or to do rather than never-ending days of wondering what to do. He got me up and about, out of the house. That was a real boost. 
I also saw him walk for the first time. Maybe I wouldn't have seen that in normal circumstances if I was playing cricket constantly. Being there for those moments and being around the family, it was good for the mental health. Parts of the last year were a blessing in disguise. 
***
Daniel Bell-Drummond, 27, is a multi-format batsman and Kent vice-captain. With Sam Billings away on IPL duty, he will assume captaincy duties for the first two months of the season. He is entering his 10th season as a professional. In 2020, he was the leading runscorer in the T20 Blast, with 423 at an average of 42 and strike rate of 154. Bell-Drummond is also one of the few black cricketers in the domestic setup. 
That break in the world and cricket with the pandemic came I suppose in what is "the middle" of my career.
At 27, I've done fairly well. From a kid starting out, I'd be pretty happy to where I got coming into my 10th year of professional cricket. Six years ago I hit a hundred against Australia and since then there have been patches in the Championship, but I need to do bigger things for sure.
This winter, for me, was quite productive. I was able to get away to the Sri Lanka Premier League and the T10, which was fun. It just broke up my winter. It was also good to spend more time at home, get fit and see family.
I went back over a lot of footage, I spoke to my old school coach, old Kent coaches and Michael Yardy as well and worked out how to improve my game. I'm feeling confident about the technical things I worked on over the winter and I'm looking forward to seeing how they go this summer.
I am in the prime of my career, so to lose half of 2020 was definitely a shame. But I still feel quite young to be honest, even though I've been playing professional cricket for 10 years. I still don't feel I've reached the best player I can be – nowhere near, really.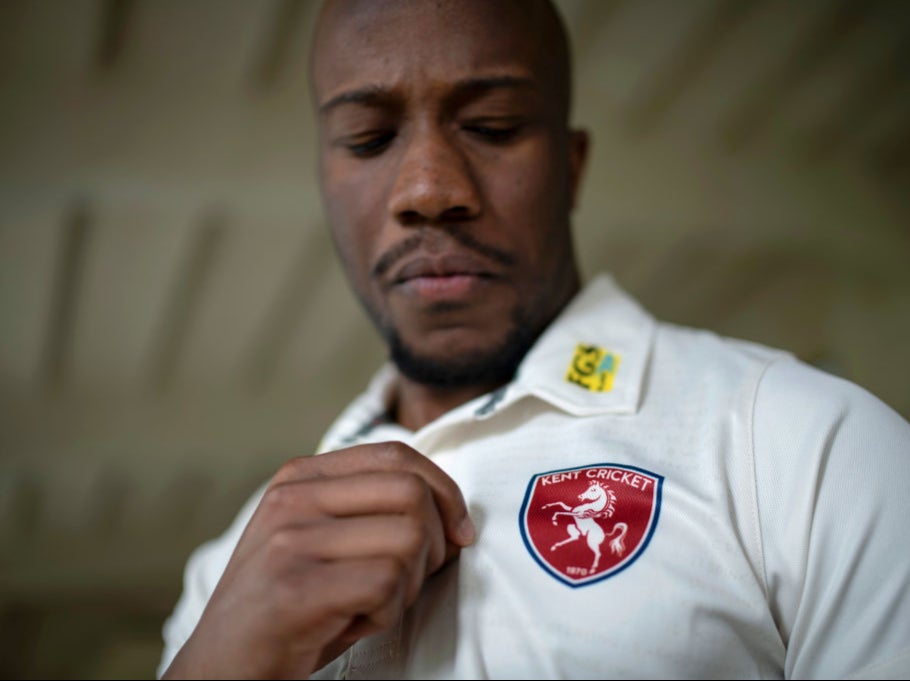 Daniel Bell-Drummond of Kent poses for a pre-season portrait
I've tried my hardest. I don't regret a thing. I'm very happy with how it's gone so far and I feel like I've achieved brilliant stuff already. I don't like talking about national call-ups anymore. Everyone's goal is to play for England and when I wake up, that's all I want to do, to play for my country. But sometimes you can't control that.
All I can do is control my consistency for Kent. Especially in red-ball cricket, which I want to improve on. It's definitely tough given the times in the summer we play Championship cricket. Hopefully, Canterbury is a good wicket this year.
From a team perspective, we've had to adjust. Not being able to go on pre-season tours and not being able to have a marquee at Canterbury because of the slope meant we trained outside quite late. But indoor sessions were good and we've had a few good practice games. But it's been difficult that's for sure.
Gym sessions had to be one-on-ones because of the protocols, so the strength and conditioning coach comes in at 6am and then leaves at 7pm, which has been pretty nuts. Hopefully, there is light at the end of the tunnel. To be honest, it's just great that we can play the full fixtures as well. Touch wood, that remains the case. It's all looking very promising.
Off the field, I found last summer quite tough, as most black people did.
I turn off my Twitter most of the time now because it can get a bit in your personal space. You might be whizzing through your phone and you come across something controversial and it's sad. We've all seen people say things that you weren't expecting, that were very hurtful. I don't think social media is healthy for topics like this at the minute.
It made me appreciate the close-knit group I had around me. They are the ones I turn to in good and bad, and the last year has been an example of how valuable they are to me. Coming from south London, I've had a very proud upbringing with family and friends.
I'm focused on being the best I can be. I definitely know if I can put some consistency with my best work, I can get somewhere.
Source: Read Full Article